De Wolff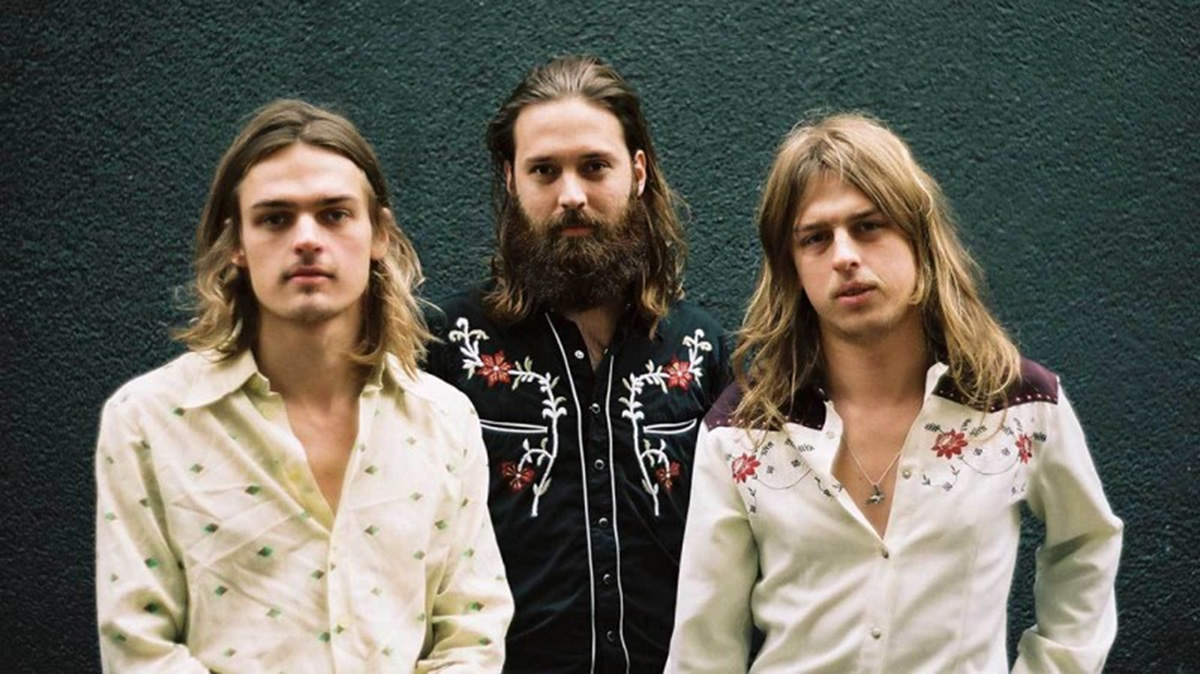 Members:
Pablo van de Poel - Guitar - 25
has recorded dozens of albums and EPs, from other Dutch rock bands such as The Grand East, Money & The Man, The Dawn Brother
2013 - "I was listening a lot to Metallica and after that I listened to Nirvana and The Smashing Pumpkins – I was really into them. The first song I wrote was kind of Nirvana style. And then I discovered Hendrix, at the age of 11, 12. Then came Led Zeppelin, The Doors and all that stuff – and now I'm listening to Leon Russell! No, sorry, at the moment Lynyrd Skynyrd,"
2013 -" We started with that psychedelic blues rock.When I listen to the album Strange Fruits and Undiscovered Plants, for example , I do not think it sounds so cool. Then we went more to the second album with the second album. What more dark melodies or whatever you call it, a more dark atmosphere. Then came the latest album ' DeWolff IV' , a rock opera. We were very proud of it. That was actually where we started on Orchards / Lupine but now it's worked out much further. We did the best and the best we could do with it.But now, the last couple of months we have all gone back to listening to rock 'n roll songs, southern rock and Neil Young for example.
Also started band Catawba River Fox
Luka van de Poel - Drums - 23
Side project Akula Rhythm band 2017 - love for afrobeat
Graduated for dums at conservatory of Amsterdam May 17
Interview - https://translate.google.co.uk/translate?hl=en&sl=nl&u=http://www.camielmusic.nl/interview-luka-van-de-poel-akula-rhythm-band/&prev=search
Robin Piso - Keyboards - 26
Also started band Orgel Vreten
Bio info
The band's name was inspired by the character "The Wolf" from the movie Pulp Fiction, shown by Harvey Keitel . DeWolff won in 2008, the first prize of a nationwide talent competition. In August of that year they received a record deal . At the time drummer Luka van de Poel was only 14, guitarist Pablo van de Poel 16, keyboardist Robin Piso 17 years old. Concerts in the Amsterdam Paradiso followed in 2010 first appearances in Belgium and Germany , including at the Crossroads Festival in Bonn , where they were recorded for the Rock Palace of WDR . The website of Rockpalast attests DeWolff, "shaking the world with wild, psychedelic Sixties blues rock". The three Dutchmen took the listener "into a time when Led Zeppelin , Cream , Pink Floyd and Deep Purple dominated the world". [3]
The final breakthrough brought the trio his second album Orchards / Lupine , a "psychedelic [r] classic of the modern era". On the B-side of DeWolff IV (2012) DeWolff released with A Mind Slip a "mini- rock opera " with which they offered live "the full psychedelic board" [5] . 2014 was followed by Grand Southern Electric , on which the band "worked up the history of the US Southern Rock [t]". [4]
The sixth studio album Roux-Ga-Roux was released in 2016, which was also praised by critics. Klaus Bornemann wrote at BetreutesProggen.de : "DeWolff celebrate US Southern Rock with a cultivated mood [...] Every second of the 51 minutes just makes you happy." [6] Roman avowed by Jasiek avalost.de of a " Festivities for Classic - / Psychedelic-Rock-Fans ", inspiring with" unbelievable creativity and joy of playing ". [7]
DeWolff operate their own studio , Electrosaurus Southern Sound Studio , in Utrecht and the label Electrosaurus Records .
Tend to do extended jams on stage
Supported Deep Purple, Luka: Crazy! It was in a big ice hockey hall. There were six to seven thousand people like that. It was the biggest hall we ever played in. Roger Glover, the bass player of Deep Purple, stood at the edge of the stage and watched. After that, he said, "Wow, I'm a fan." - SOURCE - Roger Glover - Deep Purple/Rainbow
Songs the band like playing live 'Love Dimension', Tired of Loving You'
Songwriting - Pablo: We prefer to write our songs in the studio. They arise during our jam sessions and rehearsals.