Joe Bonamassa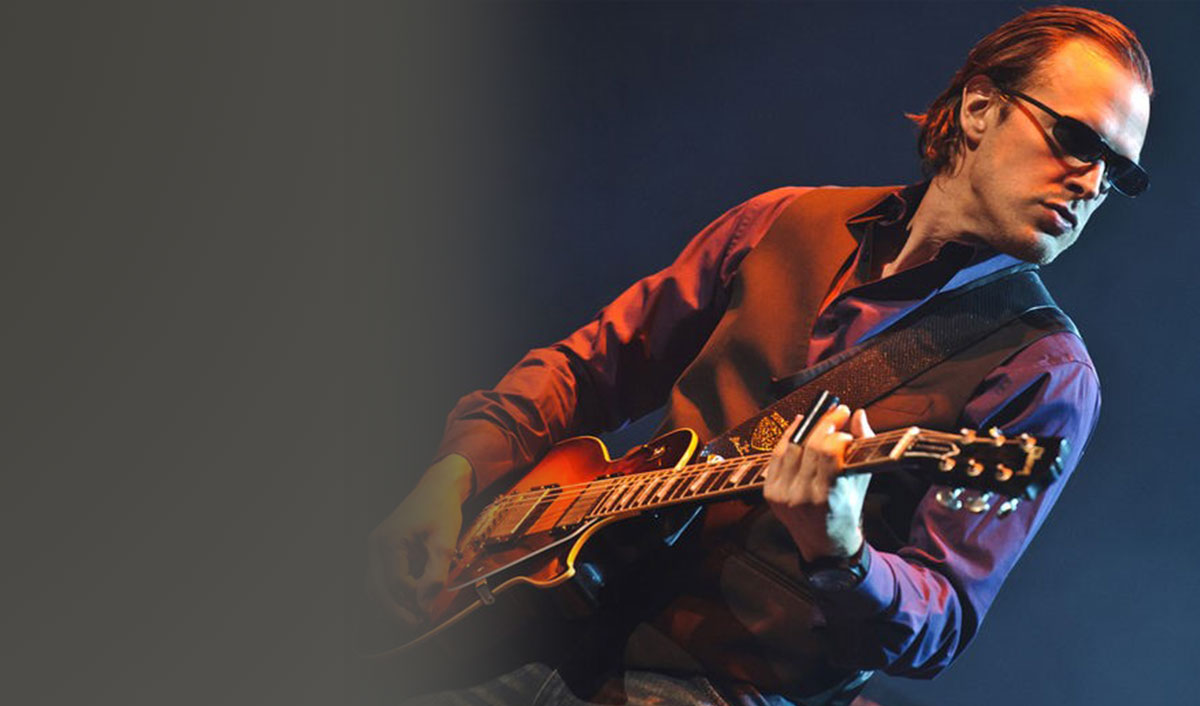 Joe Bonamassa Live At Carnegie Hall –An Acoustic Evening
Will be released on June 23 on CD, DVD, Blu-ray and Vinyl
JOE BONAMASSA: WINNER OF THE SENA PERFORMERS EUROPEAN GUITAR AWARD 2017
Last year January 21st and 22nd world-renowned platinum-selling and Grammy nominated Blues-rock singer-songwriter and guitarist Joe Bonamassa performed 2 unique all-acoustic shows at the iconic Carnegie Hall in New York City. Both performances were filmed and made into 'Joe Bonamassa Live At Carnegie Hall –An Acoustic Evening'. An evening of extraordinary music with new arrangements of favourite songs as well as brand new, never-before-heard songs. It will be released on Double CD, Double DVD, Blu-ray and 3 LP Vinyl on June 23 and available for pre-order starting 19 April .
The concert was part of a special all-acoustic tour and featured an all-star ensemble of world-class musicians. Acclaimed Chinese cellist and erhuist Tina Guo, who's repertoire stretches from classical to heavy metal; and Hossam Ramzy, the Egyptian percussionist and composer, who has performed on dozens of film soundtracks and records, including on Jimmy Page and Robert Plant's No Quarter: Unledded Tour. Reese Wynans (piano), Anton Fig (Drums) Eric Bazilian (mandolin, hurdy-gurdy, saxophone, acoustic guitar, vocals), and three Australian backing vocalists, Mahalia Barnes, Juanita Tippins, and Gary Pinto.
'Despite being among the most ambitious things I've done – I played with a 9 piece acoustic band – It came out great. It was a typical Joe freak show.' (Joe Bonamassa)
Everyone knows the old saying about how to get to Carnegie Hall, but Bonamassa has truly lived that advice. His entire life and musical career had been practice for this moment, and a young blues-boy finally made good on a childhood dream of playing one of the most hallowed stages in the world.
This stripped down, all-acoustic show allowed his fans a glimpse into his soul and presented a thrilling and musically dangerous spectacle akin to walking a tightrope without a net.
"Reminiscent of Ry Cooder's '70s experiments in blues, country and soul." (Mojo)
More good news is that Joe Bonamassa is also the winner of the Sena Performers European Guitar Award 2017 (SEGA). He will receive the award at a special ceremony on May the 21st  in the Dutch city of Bergen op Zoom. Last year Steve Vai won and accepted the award in person in the same town. An impressive list of former winners of the Sena Performers European Guitar Award led the way for him: Slash from Guns N' Roses, Brian May from Queen, Walter Trout and Steve Lukather from the band Toto. Joe said: "This is really a big thing for me, looking at the people who won it before me. Guitar players like Brian May, Steve Vai, Steve Lukather and Walter Trout are such an inspiration. I'm honoured by this."
About Joe Bonamassa: As Joe Bonamassa enters his 27th year as a professional musician, he continues to blaze a remarkably versatile artistic trail, and amass an authentic, innovative and soulful body of work. Bonamassa's career began onstage opening for B.B. King in 1989, when he was only 12 years old. Today, he is hailed worldwide as one of the greatest guitar players of his generation, and is an ever-evolving singer-songwriter who has released 22 solo albums in the last 15 years, all on his own label, J&R Adventures. He founded and oversees the non-profit Keeping The Blues Alive Foundation to promote the heritage of the blues to the next generation, fund music scholarships, and supplement the loss of music education in public schools. His 2016 album Live At The Greek was nominated for a Blues Album GRAMMY® . The album was also the 17th he had a  #1 Billboard Blues Album (more than any other artist).       
Live At Carnegie Hall

Track List

Extra Information

 

 

 


01.

This Train

02.

Drive

03.

The Valley Runs Low

04.

Dust Bowl

05.

Driving Towards The Daylght

06.

Black Lung Heartache

07.

Blue And Evil

08.

Livin' Easy

09.

Get Back My Tomorrow

10.

Mountain Time

 

How Can A poor Man Stand Such

Times And Live

11.

Song Of Yesterday

12.

Woke Up Dreaming

13.

Hummingbird

14.

The Rose


Release Date

June 23, 2017

 

Available formats

2CD, 2DVD, Bluray, 3LP

 

Joe Bonamassa Online

www.facebook.com/JoeBonamassa

www.twitter.com/JBONAMASSA

www.instagram.com/JOEBONAMASSA
| | | | |
| --- | --- | --- | --- |
|   | Tour dates |   |   |
| 18-Apr-17 | Usher Hall | Edinburgh | United Kingdom |
| 20-Apr-17 | Royal Albert Hall | London | United Kingdom |
| 21-Apr-17 | Royal Albert Hall | London | United Kingdom |
| 22-Apr-17 | Blackpool Opera House | Blackpool | United Kingdom |
| 24-Apr-17 | Sheffield Arena | Sheffield | United Kingdom |
| 26-Apr-17 | Zenith Arena Lille | Lille Grand Palais | France |
| 28-Apr-17 | Lotto Arena Antwerpen | Antwerpen | Belgium |
| 29-Apr-17 | Ziggo Dome | Amsterdam | Netherlands |
| 30-Apr-17 | Hallenstadion | Zurich | Switzerland |
| 2-May-17 | Zenith de Dijon | Dijon | France |
| 4-May-17 | Palais De Congres De Paris | Paris | France |
| 5-May-17 | Porsche-Arena | Stuttgart | Germany |
| 5/6/2017 | Messe+Congress Centrum Halle Münsterland | Münster | Germany |
| 8-May-17 | Festspielhaus Baden-Baden | Baden-Baden | Germany |
| 10-May-17 | Barclaycard Arena | Hamburg | Germany |
| 12-May-17 | Mitsubishi Electric Halle | Dusseldorf | Germany |
| 13-May-17 | Stadthalle Bremerhaven | Bremerhaven | Germany |
| 14-May-17 | Swiss Life Hall | Hannover | Germany |
| 16-May-17 | Freiburg Sick Arena | Freiburg | Germany |
| 17-May-17 | Oberschwabenhalle | Ravensburg | Germany |
| 19-May-17 | Arena Leipzig | Leipzig | Germany |
| 20-May-17 | Olympiahalle | Munchen | Germany |
| 10-Jun-17 | Barclaycard Arena | Hamburg | Germany |
JOE BONAMASSA ASSETS:
http://mascot-provogue.com/download/joe_bonamassa
=========================================================================================================
Editorial note/Not for publication:
For additional information, stream links, and interview requests, please contact:
Mascot Label Group
Ben Hofland | Office:  +31 (0)10 512 03 84 | ben@mascotlabelgroup.com
Mascot Label Group is a 100% independently owned and operated record company that is a market leader in the worlds of Rock, Metal and Blues. Originally founded in 1989 in The Netherlands, MLG now operates company offices in New York City, London, Cologne, Paris, Milan, Stockholm, alongside the corporate headquarters in Rotterdam. The Mascot Label Group consists of individual imprints that include Mascot Records, Provogue Records, Music Theories Recordings and Cool Green Recordings. MLG is a label member of the American Association of Independent Music (A2IM).
Mascot Records primarily issues Metal and Rock albums. The label introduced Volbeat to the world, releasing the band's first three studio albums and the DVD Live: Sold Out. New artists signed to Mascot Records include Black Stone Cherry, Monster Truck, Stoneghost, Counting Days, and Shaman's Harvest.
Provogue Records is the market leader in guitar loaded Blues titles and is revered for its support of artists that include Robert Cray, Walter Trout, Beth Hart, JJ Grey & Mofro and many more. Provogue Records catalog features hundreds of titles, capturing the prolific work of talent that includes e.g. Joe Bonamassa, Gov't Mule featuring Warren Haynes, Eric Johnson, and Kenny Wayne Shepherd.
Music Theories Recordings continues to be a leader in the worlds of progressive and musicianship, with Flying Colors as one the highest profile band so far. Additional artists signed to the imprint include Spock's Beard, Memories of Machines, Paul Gilbert, Arjen Lucassen's Guilt Machine, Teramaze, and Neal Schon.
Cool Green Recordings houses artists loosely defined in the alternative and cutting edge space. Australian desert rockers Tracer, underground favorites Crippled Black Phoenix and Masters of Reality featuring Chris Goss are amongst those defining the width of Cool Green Recordings' A&R vision.